New York
ABOUT THIS STATE
New York! Pizza! The Yankees! A big ass waterfall! Sorry for screaming, it's the New Yorker in me. Look, we don't need to tell you how big of a deal you are. I mean, you're home to 1 out of every 38 people in this country. With a rep that huge, you have to set an example by making your voice heard in the polls. Face it, without democracy, your government wouldn't have been able to vote against bringing e-scooters to NYC. New York has two main elections in 2022: Its primary election will take place on June 28, and the general will be held on November 8. Here's everything you need to know about voting in the Empire State. (Source: Ballot Ready)
Key
Dates
Jun 3
Primary Registration Deadline
Jun 13
Absentee Ballot Request Deadline (By Mail)
Jun 27
Absentee Ballot Request Deadline (In Person)
Jun 28
Absentee Ballot Return Deadline
Jun 18 – Jun 26
Primary Early Voting
How do I make sure I'm registered to vote?

Can I register the same day I want to vote?

Do I have to be registered as a Democrat or Republican to vote in my primary?

Can I vote by mail?

Can I vote early? (primary)

Do I need an ID?
what's new in new york voting since 2022
New York passed 22 new voting laws in 2021. That's right, 22! Don't worry though, we're on top of it. Here's what you need to know about the changes. The state is on track to create a new online absentee ballot application system, as well as a new absentee ballot tracking system. You should also know that the deadline to submit an absentee ballot application by mail has changed. Instead of 7 days before the election, it now has to received 15 days before the election. The deadline to submit an absentee ballot request in person is still the same. While mail-in voting was available to all voters in 2020 due to the coronavirus, New York will likely return to pre-COVID status quo in 2022. Make sure you have another plan to vote, if you're not eligible for absentee by-mail voting.
learn more
Join Midterm Madness
In 2022, we need to mobilize volunteers around both nearby and national opportunities to defend and grow progressive majorities. We'll guide you through what you need to know and how to get involved in the most important elections in 2022, from the Senate to your school board, in key states throughout your region.
Defend the East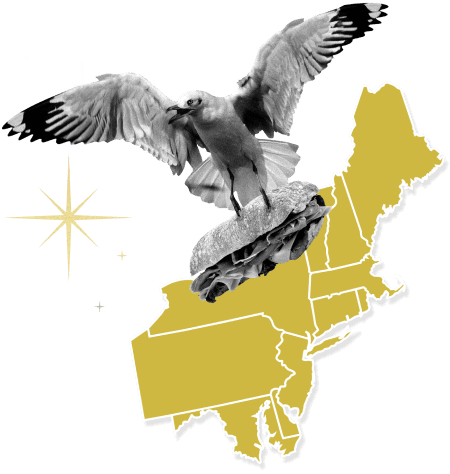 Resources
Get your absentee ballot here!

Learn More

Need to show Voter ID? Not sure what kind? Get the specifics in your state here.

Learn More
IT'S GOING TO TAKE ALL OF US TO WIN IN 2022. ARE YOU IN?