Wyoming
ABOUT THIS STATE
Wyoming: The first state to give women the right to vote, to elect a woman governor, and to give the Sundance Kid his name and then throw him in jail for stealing a horse. What a ride! Don't be the first to f*ck up this incredible record and make sure you vote in 2022. Wyoming has two main elections in 2022: Its primary election will take place on August 16, and the general will be held on November 8. Here's what you need to know in the Equality State. (Source: Ballot Ready)
Be A Voter
Key
Dates
Aug 1
Primary Registration
Jul 2 – Aug 15
Primary Early Voting
Aug 15
Primary Absentee Ballot Request Deadline
Aug 16
Primary Election Day, Absentee Ballot Return Deadline
How do I make sure I'm registered to vote?

Can I register the same day I want to vote?

Do I have to be registered as a Democrat or Republican to vote in my primary?

Can I vote by mail?

Can I vote early?

Do I need an ID to vote?
what's new in wyoming voting since 2020
Here's what you need to know about changes to election law in Wyoming. Wyoming voters are now required to present ID when they vote in person, on Election Day. Valid forms of ID include a driver's license or Wyoming state ID card, a tribal ID from a federally recognized tribe, a US passport, a US military card, a student ID from a Wyoming public school or college, or a valid Medicare or Medicaid insurance card. Check with VoteRiders for more details.
Join Midterm Madness
In 2022, we need to mobilize volunteers around both nearby and national opportunities to defend and grow progressive majorities. We'll guide you through what you need to know and how to get involved in the most important elections in 2022, from the Senate to your school board, in key states throughout your region.
Defend the West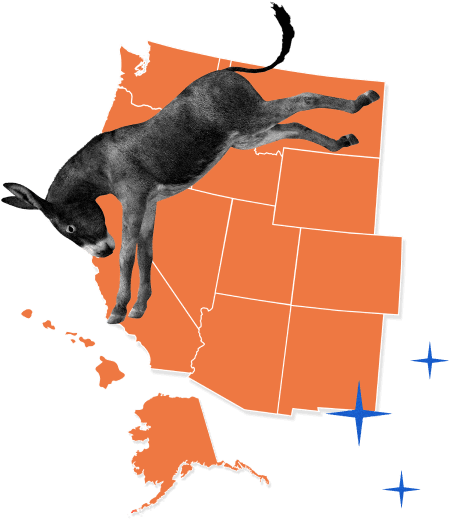 Resources
If you run into any issues while voting, call 1-833-DEM-VOTE (1-833-336-8683), a voter hotline is monitored 24/7/365 with voting experts who are ready to field questions pertaining to felon disenfranchisement, voter purging, poll worker misconduct, voter machines, accessibility, and more.

Learn More

Need to show Voter ID? Not sure what kind? Get the specifics in your state here.

Learn More
IT'S GOING TO TAKE ALL OF US TO WIN IN 2022. ARE YOU IN?