Nevada
ABOUT THIS STATE
You know Nevada, it'd be easy for us to throw out some puns like, "Don't GAMBLE with America's future" (not cool), or "What happens at the polls, stays at the polls" (doesn't make sense), or even "Hoover Dam it feels good to vote" (sorry). But we would never do that, this election is too important! Nevada will have two main elections in 2022: Its primary election will take place on June 14, and the general will be held on November 8. Here's everything you need to know about Election Day in the Silver State. (Source: Ballot Ready)
Be A Voter
Key
Dates
May 27
Vote By Mail Voter Primary Voter Registration Deadline
Jun 14
Primary Voter Registration Deadline (if voting in-person)
Jun 14
Absentee Ballot Return Deadline (Postmarked By)
May 28 – Jun 10
Early Voting (Primary)
How do I make sure I'm registered to vote?

Can I register the same day I want to vote?

Do I have to be registered as a Democrat or Republican to vote in my primary?

Can I vote by mail?

Can I vote early?

Do I need an ID?
what's new in nevada voting since 2020
Great news Nevada! Your election system is going 21st Century. After trying out an all-mail election in 2020, Nevada will now permanently have primarily vote by mail elections, so every eligible voter will receive a ballot in the mail for every election. What's more, Nevada enhanced its automatic voter registration system, which means that interactions with any government service where you provide certain documents or notice of address change (DMV, Medicaid administration, etc) will automatically transmit that information to the election authorities to register new voters or update registrations. But wait, there's even more good news! Nevada now requires a dropbox at every polling location, and many localities will have additional drop boxes as well. The state also established a minimum number of polling places during early voting and on election day AND expanded online voter registration up through the day of the election. There's no excuses now, Nevada! Go vote!
Join Midterm Madness
In 2022, we need to mobilize volunteers around both nearby and national opportunities to defend and grow progressive majorities. We'll guide you through what you need to know and how to get involved in the most important elections in 2022, from the Senate to your school board, in key states throughout your region.
Defend the West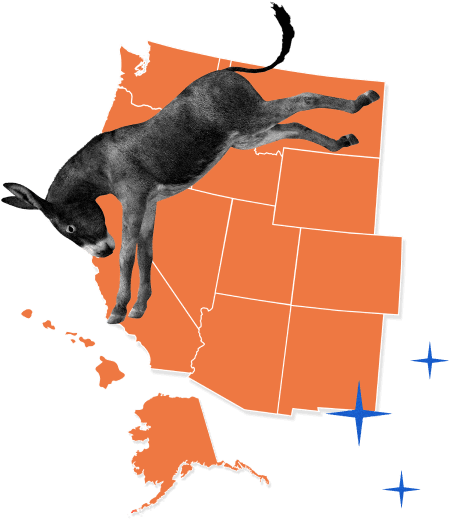 Resources
Get your absentee ballot here!

Learn More

Need to show Voter ID? Not sure what kind? Get the specifics in your state here.

Learn More
IT'S GOING TO TAKE ALL OF US TO WIN IN 2022. ARE YOU IN?