Montana
ABOUT THIS STATE
Hey Montana, did you know that, in your state, if you start performing onstage, you legally can't quit halfway through? You have to finish. It's a law! A law that *you* made! Let's apply it to voting, shall we? If you pledge to vote, there's no backing out. You gotta do it. The good news for you? Voting's a lot easier than the performing arts. Montana has two main elections in 2022: Its primary election will take place on June 7, and the general will be held on November 8. Here's everything you need to know about voting in Big Sky Country. (Source: Ballot Ready)
Be A Voter
Key
Dates
May 9
Primary Voter Registration Deadline (Postmarked By)
Jun 6
Primary Absentee Ballot Request Deadline
Jun 7
Primary Absentee Ballot Return Deadline
May 9 – Jun 6
In-Person Absentee Voting (Primary)
How do I register to vote?

Can I register the same day I want to vote?

Do I have to be registered as a Democrat or Republican to vote in my primary?

Can I vote by mail?

Can I vote early? (primary)

Do I need an ID?
what's new in montana voting since 2020
In 2021, Montana passed 10 new laws related to voting. Don't worry, we'll tell you everything you need to know to make sure your ballot gets counted. There are two main changes that affect voters. First, there is no longer same-day registration in Montana. So make sure you're registered to vote by noon on the day before the election. Second, voter ID requirements have changed. When you're registering to vote or casting your ballot, there are a few options to fulfill the requirements. When you register, you can use either your Driver's License/State ID number or the last four digits of your Social Security Number OR a certain forms of photo IDs, including a military ID, tribal photo ID, US passport, or MT concealed carry permit. If you don't have any of those things, you can use another form of photo ID PLUS a bill, paycheck, or government issued document with your name and current address. When you show up to the voting booth itself, you can use either your government-issued ID (Montana driver's license, tribal ID, U.S passport, concealed carry permit, military ID) or another form of photo ID PLUS a bill, paycheck, or government document with your name and address. Student IDs are no longer a valid form of voter identification. Check with our friends at Vote Riders for more details on voter identification or assistance.
learn more
Join Midterm Madness
In 2022, we need to mobilize volunteers around both nearby and national opportunities to defend and grow progressive majorities. We'll guide you through what you need to know and how to get involved in the most important elections in 2022, from the Senate to your school board, in key states throughout your region.
Defend the West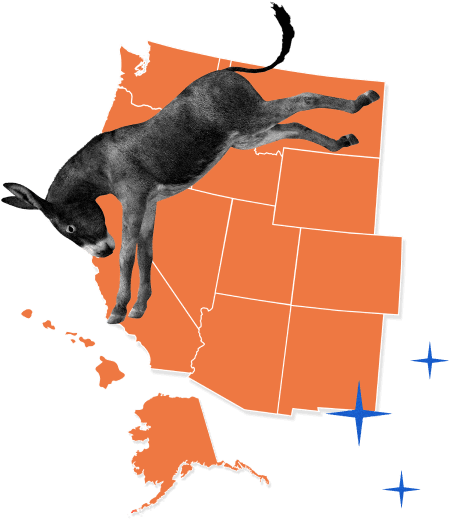 Resources
Get your absentee ballot here!

Learn More

Need to show Voter ID? Not sure what kind? Get the specifics in your state here.

Learn More
IT'S GOING TO TAKE ALL OF US TO WIN IN 2022. ARE YOU IN?