Illinois
ABOUT THIS STATE
Make some Illi-nooisse! The Land of Lincoln, Deep Dish Pizza and OPPRAAHHH! She may not be running this year, but if you look under your seat you'll see that everyone gets a VOTE! You get a vote, you get a vote! Everybody. Gets. A. Vote. Thank you for sticking with me on that, but in all seriousness, the election is coming up fast and we need to be prepared. Illinois will have two main elections in 2022. Its primary election will take place on June 28, and the general will be held on November 8. Here is all the information you need to be a voter and make Oprah proud. (Source: Ballot Ready)
Be A Voter
Key
Dates
May 31
Primary Voter Registration Deadline (By Mail)
Jun 12
Primary Voter Registration Deadline (Online)
May 19 – Jun 27
Primary Early Voting Dates
Jun 23
Primary Absentee Ballot Request Deadline
Jun 27
Primary Absentee Ballot Return Deadline (in person)
Jul 12
Primary Absentee Ballot Return Deadline (by mail)
How do I make sure I'm registered to vote?

Can I register the same day I want to vote?

Do I have to be registered as a Democrat or Republican to vote in my primary?

Can I vote by mail?

Can I vote early?

Do I need an ID?
what's new in illinois voting since 2020
Good news! Illinois lawmakers got to work on expanding voter access in 2021! The new laws enable curbside voding, ensure drop boxes will stick around, and ensures that people who are incarcerated are informed about their voting rights and have access to the ballot when eligible. Illinois also created a permanent absentee voting list, so that voters can enroll once and receive ballots by mail for all upcoming elections. Plus, the 2022 General Election Day, November 8th, will now be a state holiday!
Join Midterm Madness
In 2022, we need to mobilize volunteers around both nearby and national opportunities to defend and grow progressive majorities. We'll guide you through what you need to know and how to get involved in the most important elections in 2022, from the Senate to your school board, in key states throughout your region.
Defend the Midwest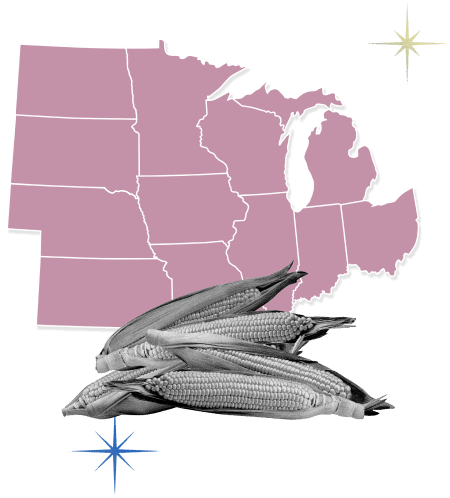 Resources
Get your absentee ballot here!

Learn More

Need to show Voter ID? Not sure what kind? Get the specifics in your state here.

Learn More
IT'S GOING TO TAKE ALL OF US TO WIN IN 2022. ARE YOU IN?