Arkansas
About This State
Arkansas. You're so serious about that correct pronunciation of the state that you wrote it into law. Gotta respect that, in the same way we (don't) respect people who wear socks with sandals. But here's what we do respect, deeply. Your commitment to voting this year. Here's everything you need to know to vote! Arkansas will have 5 main elections taking place in 2022. The statewide primary and primary runoff will be taking place on May 24 and June 21, respectively; the statewide general and general runoff will be taking place on November 8 and December 6, respectively. There will also be consolidated local elections on August 9. (Source: Ballot Ready)
BE A VOTER
Key
Dates
Apr 25
Preferential Primary Registration Deadline
May 17
Preferential Primary Absentee Ballot Request Deadline (by mail or online)
May 20
Preferential Primary Absentee Ballot Request Deadline (in person)
May 9 – May 20
Preferential Primary Early Voting
May 23
Preferential Primary Absentee Ballot Submission Deadline (by hand)
May 24
Preferential Primary Absentee Ballot Submission Deadline (by mail)
May 24
Preferential Primary
How do I register to vote?

Can I register the same day I want to vote?

Do I have to be registered as a Democrat or Republican to vote in my primary?

Can I vote by mail?

Can I vote early?

Do I need an ID?
what's new in arkansas voting since 2020
Arkansas passed 15 new laws related to elections in 2021. Here's what you need to know. In the past, voters could use a sworn affidavit to verify their identity if they did not have their ID at the polling place. Now, voters who do not have their ID may cast a provisional ballot and return with a valid ID by the Monday after the election in order to have the provisional ballot counted. Some key deadlines have also changed. The last day to BOTH request and return an absentee ballot in person is now the Friday before election day. Finally, drop boxes may no longer be allowed under Arkansas law. One more thing: in 2020, all voters were able to use absentee ballots due to the pandemic. That temporary rule will no longer be in place in 2022, so only certain voters will be able to vote by mail. So make sure you've got the correct ID now and make a plan to vote.
learn more
Join Midterm Madness
In 2022, we need to mobilize volunteers around both nearby and national opportunities to defend and grow progressive majorities. We'll guide you through what you need to know and how to get involved in the most important elections in 2022, from the Senate to your school board, in key states throughout your region.
Defend the South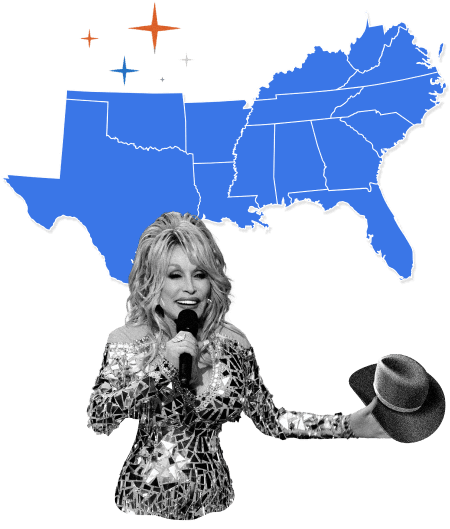 Resources
Get your absentee ballot here!

Learn More

Need to show Voter ID? Not sure what kind? Get the specifics in your state here.

Learn More
IT'S GOING TO TAKE ALL OF US TO WIN IN 2022. ARE YOU IN?